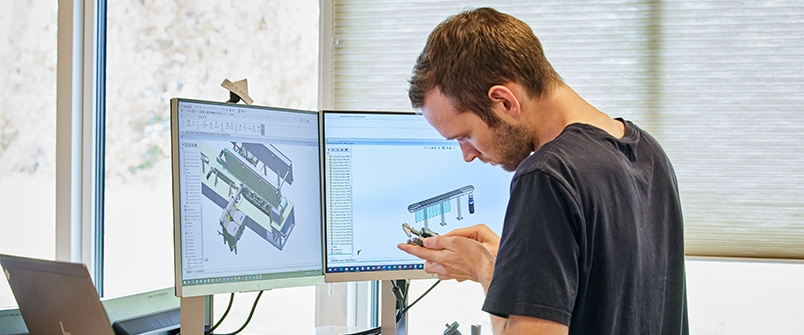 Mechanical Engineer / Designer
We are looking for a passionate Mechanical Engineer with a keen interest in innovation, development, and mechanical design.
PJM A/S is a full-service automation supplier offering the development of advanced automation solutions within a multitude of businesses – from medical industry to plastic toy production. We develop and design advanced customized automation solutions in collaboration with our customers and partners, from idea to operation.
About the job
As our new mechanical engineer/designer in the Mechanical Design and Engineering Department you will have a central position in mechanical design, as the backbones for the automation solutions are created here. You will be working in a multidisciplinary creative project team of mechanical designers, technical assistants, programmers, fitters, and project managers.
Also, you will be involved in our Innovation Lab. The Lab is a collaborative workspace for all PJM employees, where we can explore possibilities such as 3D prototyping, advanced robotics, IoT and software.
"As a young professional at PJM you are taken seriously from day one by the more senior colleagues, who are always ready to support and share their experience with you. You get an exceptional chance to be innovative and work with unique designs on every new project," says Erik Veidorf, Mechanical Designer.
What you know
You have a degree in Mechanical Engineering, are a Graduate in Production Technology or the like – having gained relevant knowledge of mechanical engineering and automation. You may have graduated recently or only have a few years of practical experience.
You have experience with Solid Works or similar CAD applications and are familiar with the Machinery Directive and Standards, and are fluent in both Danish and English, written and spoken.
Who you are
You are curious by nature and passionate about innovation, development, and design of advanced machinery - and have a great interest in technology, robotics, and for fine mechanics.
You generate new ideas, enjoy interacting with people working in cross disciplinary teams, and you are not afraid of challenging existing views and methods.
You take responsibility and work independently and systematically getting tasks finished on time. You are interested in the customers mindset, wanting to understand where to create value, still balancing quality and cost.
What's in it for you?
An interesting and varied job where you will have the possibility to follow your projects from idea to commissioning for some of the most renowned companies in Denmark.
A creative and exciting work environment with skilled and committed colleagues in a dynamic and project-based company manufacturing advanced automation solutions using the latest technology.
As the projects are constantly varying in applied technologies and customer requirements, you will have a unique opportunity to grow– both professionally and personally.
The position is based in Fårevejle in Northwest Zealand (one-hour drive from Central Copenhagen).
Additional information
The recruitment process is handled by CAD Kompagniet A/S. You are welcome to contact Ole Perregaard at +45 5174 9001 for more information.
Please send your motivated application and CV to op@cadkompagniet.dk marked Mechanical Engineer/Designer
Don't hesitate - applications are reviewed as they are received. We are conducting interviews on an ongoing basis, and the position will be closed once we have found the right candidate.
The Company
PJM A/S is a 100% Danish-owned company that manufactures customer-specified assembly and production equipment for primarily healthcare sector but also the general industry. The company currently employs 95 people. PJM A/S is a full-service automation supplier offering the development of advanced automation solutions within a multitude of businesses – from medical industry to plastic toy production.
Om CAD Kompagniet
CAD Kompagniet A/S er et rekrutterings- og vikarbureau med speciale i at matche tekniske profiler med virksomheder inden for industri og byggeri.